With COVID-19 taking the world by storm, it must have also put a pause on your international study dreams to study in world class study destinations such as Australia, United Kingdom or Canada..
And there could be several worrying questions:
Is Visa application even being processed during such uncertain times?
Is admission process being stalled due to ongoing border restrictions?
Will I get scholarship assistance with strong academic profile?
Will Post graduate Work permit take into account – if I enroll for online course study?
What bonafide measures are Governments taking to instill confidence for international students?
or even more might be popping up in your mind…
Important note..
In this post – Have made references or cited specific examples to support varied standpoints however, do see that certain references may differ for other countries..
While your concerns are genuine and undeniable however, be ASSURED that they have mostly stemmed from purported rumours and misleading information you may be reading or hearing.
I am going to uncover and debunk [expose the hollowness] of varied baseless myths which are being circulated further in this blog post – however – before that :
Let me exhibit stats from surveys which clearly shows that "Vast majority of Indian students are still keen to study abroad in near future"
This certainly asserts the fact that most of the aspirants are STILL willing to go against the tides in order to fulfill their ambitions after recognizing that pros outweigh cons such as way better employment opportunity, diversified exposure, and a higher standard of living etc…
So, regardless of we living through unprecedented Covid-19 times – Insane myths are going to be busted sooner or later…
But, If you are expecting to still WAIT for the right moment with all-in-one solution where there is ALL positive news – you are in for illusive mindset and that won't actually help.

And then, trust me – Things would get TOUGHER if you keep delaying because eventually, time doesn't come back for anyone..in the last, you will left solely with REGRETS!
Now, Let's dive now right in to know the myths and how they get debunked? :
Myth#1 : International Universities are Not Accepting New Admissions
This is The truth -
Infact – A significant chunk of revenue for many varsities and their countries comes from overseas student fees so there's no chance – tertiary sector would forego international students.

And then, to further substantiate the ongoing economic support by the annual cohort of International students – millions of local jobs are created exponentially through them..
Here's some quick stats to corroborate the above thesis :
Henceforth, Educational institutes are unlikely to ban admissions in view of the inauspicious impact…
MOREOVER – Most countries are working in true spirit on extending complete support to their international students and then – the countries certainly remain oriented towards "Projected growth" shown below:
"International students contribute significantly to universities' ability to be world-class. They augment domestic student revenue significantly, but they also help us compete with other countries for the global talent pool that fuels the knowledge economy." – Victoria University Vice-chancellor Grant Guilford
Source

And then, there is some extensive support for current International students or new intakes – already in limelight..
To name a few :
So, considering the above monetary influx coming through international tertiary education and then, prominent educational institutes are offering several lucrative benefits including fee waivers, IELTS relaxations, online classes or provisional admissions to lure international students :
It would be completely unwise to stand firm with the above myth..
Myth#2 : Study Visa applications are being rejected due to Covid-19
This is completely FALSE…
This is The truth -
Infact, The below screenshots taken from official Immigration sites – Canada, UK – clearly portrays that even amidst Covid-19, Most of the countries are STILL very much accepting online Visa applications – and ever since, all of them are developed nations – well equipped with latest technology trends, You can be at EASE and not worry about your application being rejected atleast due to reasons stemming from Covid -19.
Yet – If someone beloved might have told you this VAGUE Covid-19 reason for refusal, Do ask him to give it in writing. Guess what? He will vanish after you say this 🙂

As a matter of fact – These nations had invested heavily in new digital systems and strategies for application processing and will continue to do so like announced by Canada recently..
If still astonished by your Visa refusal which I am sure could be other unearthed reasons:
Myth#3: Post-Graduation Work Permit (PGWP) Applications won't take online semester study into account…
This is The truth -
Infact – taking Canada higher studies for instance, International students enrolled in fall 2020 batches can complete up to 50% of their course online if they are unable to travel to Canada. This time for online coursework will not be penalized or deducted from the period of their future PGWP.
Now – that SOUNDS great if you are getting PGWP application – taking the online course study duration also into consideration..
And – Yes, Such initiatives have been taken for the FIRST TIME where online course duration is also being considered for PGWP.
Wishing to know in context with advantages related to PGWP, Check out facts which are being unfolded in next myth [..the MOST tangible advantage – Post graduate work permit]
And then, It is anticipated that UK is likely to consider extending PGWP visa from 2 to 4 years after completion of higher studies as recommended by its former university minister Jo Johnson.
To add "icing to the cake" – UK has already confirmed that overseas students will remain eligible for post-study work rights after graduation even if they take online classes in 2020-21 academic year.
Myth#4: Students Unable to Attend In-Person Classes will Have to Forego Their Admission
This is The truth -
Infact, To overcome the inevitable situation – Many universities across Australia, UK, Canada, New Zealand and others are offering online classes for summer and fall 2020 semester and deploying all systems, processes with needed measures to ensure that the coming intakes don't suffer due to any sort of shortcomings.
Overseas students who have already received admission letters but can't travel due to COVID-19 restrictions can take these classes from anywhere virtually – as cited by several universities…
..As and when the border restrictions ease-out, students can travel to their offshore study destination to complete the remaining phase of the studies.
Like, for example –
And then, here – you have the MOST tangible advantage – Post graduate work permit :
Attending online classes through distant learning would be counted as part of course study which was not the case prior to COVID-19 and most of universities and educational institutes have already adapted well to the technological development and continue to do so..
If your program was 2 years or more,
Canada Immigration may give you a PGWP that's valid for 3 years. Almost, Similar criteria apply for Australia, UK graduate route .

Majorly, to sum it up – Your course study from online classes would also be counted for Post Graduate Work Permit [PGWP] – Canada PGWP reference
Myth#5: Universities will No Longer Provide Scholarship Assistance to International Students
This is The truth -
Even amidst Covid-19, Universities are working out ways to provide some kind of monetary relief to their overseas students. Moreover, Many universities are also refunding or reducing fees for students who opt for online courses.

Henceforth, Students who were hoping to get a scholarship or monetary assistance from foreign universities upon admission need not worry – subject to profile assessment…
Now, talking particularly about some renowned universities:
Myth#6: International Student Support and Welfare, not materialized..
This is The truth -
Well..Well..Well.. – The concerned authorities of developed nations are more concerned that even beyond our thinking process owing to economic development – International students bring onboard?

Here's how Countries have been responding spontaneously:
In due course – The tertiary education sector from these nations, catering to international students have already deployed proactive measures and are working hard to support the health, well being, and academic success of international students, even during these hard times..
And, you won't believe that for this purpose specifically to safeguard best interests of international students – Governments have prudently created portals highlighting updates and measures, they have been taking from time to time.
Portals for reference..
And then, the support doesn't just extend from national level – Support packages have also been created from state levels also in countries like Australia.
Here's few references –
Likewise, These support packages have been designed to support the international students facing hardships during such unimaginable times.
Such hardship fund have been engineered to help keep vulnerable international students afloat during the crisis.
With coronavirus infections dramatically down and plans afoot to significantly open the Australian economy, the Australian government has announced a pilot project to bring back international students to some universities as soon as July.2020
[Source – ICEF]

Unfavorable impacts if you fall prey to myths and misinformation..
Firstly – there isn't any medicine or VACCINE discovered till date to cure negative vibes or falling prey to "unworthy" myths – only you can CONTROL it yourself by changing your mindset and most importantly, trust your "inner instincts"
Just think in this manner as the pandemic unfolds – What will happen if you fall prey to these myths?
Let me answer this – it could be detrimental to your education and career goals or to put it in absolute term – future prospects!
Here's how :
1. Changing Immigration Rules and Regulations may Turn Unfavourable
After the onset of COVID-19, many countries are introducing immigration-friendly policies for economic revival. You could miss this opportunity if you delay or call off your plan to study abroad, maybe – for another year or even later…
For instance, I wish to cite some examples supporting the above viewpoint:
A complete overhaul of how Canada processes immigration applications is in the works as the government braces for post-pandemic demand for migration to Canada.
– Source
2. Educational Gap
Are you ready to take a one-year hiatus in your education journey? Would you be fine to see your peers move abroad for higher studies and leap forward to new milestones while you stay back in India? If your answer is no, then you need to rethink your decision.
3. Procrastination shaping up with prolonged time..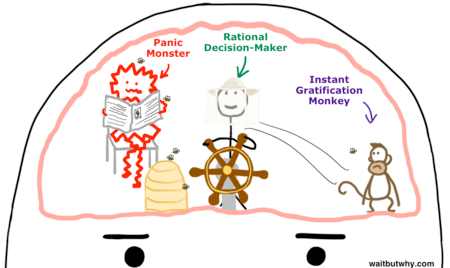 Today it is COVID-19, tomorrow it could be some other issue. If you keep putting off your decision to explore international study opportunities when things get better, you are losing valuable time – which would OBVIOUSLY not come back..
Do you know that still 91% of Indian students are firm with their original plan to study in an international university and move abroad within the next 6-10 months?
So – Get going with pursuing world-class studies taking long term BENEFITS into consideration..and don't wait for MUCH better opportunity or panic monster as shown above – might catch hold of you 🙂
Now, the question is whether you are among this 91% or the rest.. If still not, Would love to hear your thoughts in the "comment section" below..
How to Power Your study abroad dreams?
Before even delving further with this topic, I would like to ask you –
Would you want to study and bring your career prospects to the NEXT level while also, having a sense of being – the safest on the planet and not confront deadly virus diseases?
Remember – Peace of mind is most important if you want to really succeed in your life..
If yes with moving to the NEXT level – Read further :
Let me bring these important facts which would certainly level up your mindset to know that you would be LANDING in one of safest nations in the world who have done a commendable job with flattening the Covid-19 curve subject to choosing them as your preferred study destination :
Here – we are back now to this parent topic..
Now – you need to make the best of the opportunities available to you at present, albeit even slowly and gradually till the border restrictions also get lifted with time and then, aligning with the myth busters..
1. Get past – First stepping stone for Immigration pathways
Yes – You heard it right! IELTS or PTE English proficiency tests are ACTUALLY the stepping stone to head your Visa application in right direction..
Computer delivered tests [CD-IELTS] AND PTE Test centers are re-opening gradually across India and it remains undisputed that giving English Proficiency tests is quite necessary if you want to attain "Successful Visa grant" without much hassles..
And getting minimum band scores is the key for smooth immigration pathways – as these widely recognized tests are the "first pre requisite" to get an offer letter from college/university or to be eligible for Study Visa requirements.
Read more – Why Computer delivered tests are here to stay for long now?
You can appear for these tests and speed up your visa process to Australia, New Zealand, Canada and other countries. Book your consultation for online test preparation now!
And then – Usually, it would usually take around 1-5 months to prepare seamlessly for IELTS or PTE although, time frame for preparation would depend upon varied factors outlined in quora answer given by us.
2. Eligibility check
In view of Covid-19 border restrictions – Visa application processing times are certainly longer than usual so meanwhile, you can always have your documents organized after having your eligibility checked by us ..
Thereafter, You can relish concierge service – Watch your documentation, drafting, and rest of the process being done, ensuring everything to be clear of common mistakes  — a dedicated team member from Fly2victory will help make sure your forms and documents are being set alright!
And then – As per 21st century trend, We will file your application online after rigorous proofreading on timely basis. Always remember that constructive documentation, drafting and proofreading is a time consuming and complex process..
In simple terms : Faster the Visa filing, more the chances for "Acceptance"
Here's why:
This would enable to not deter your file with DELAYS and then, get lost in pile of papers at a later stage not serving any tangible purpose as the Case officer would pay much attention after "Quota" for specific year – international students has been attained..
Applications being accepted in the early SLOTS have higher chances of acceptance owing to a fixed quota system which has been decided on prior basis by immigration departments.
3. And then, powering your Study abroad dreams would lead to..
Making your pathways LUMINOUS for Permanent Residency..
"International students are also often excellent candidates to apply to remain in Canada permanently, with nearly 54,000 former students becoming permanent residents in Canada in 2018."
– Forbes
Henceforth, Considering the above stats from 2018 – the figures for more International students becoming permanent residents are bound to grow, thereby, giving you permanent exposure to the vibrant and developed economy..
So certainly – amidst Covid-19, This is also an opportune time to think about a permanent residency plan which in turn has long-term benefits for your professional career and your spouse/dependents.
Connecting the dots : Here's how studying abroad will get you ready for Permanent Residency?
Permanent residency road map usually starts with student visa 》going over towards attaining Post graduate work permit 》making way easier to get the desired points for the invitation to apply for Permanent residency with foreign work experience..
And then – not to forget, Your application will resonate more with local employers in developed countries if you gain foreign experience..
"An international experience will make you a confident, social, understanding individual with great organisational skills…and that means people will want to hire you!"
And no matter your current circumstances, it's never too late to adjust your mindset and bring positivity at the very outset- you need to take to become a high achiever and live an enriching life..
So, Where's the wait…then?
Our tie-up with MARA agent will make your visa filing process easy and uncomplicated with seamless documentation. We will ensure that your application is strong and convincing enough for the case officer to grant you a successful visa for Australia, New Zealand, Canada or the UK.
Nonetheless, You can always take advantage of favorable immigration rules, in force amidst Covid-19, and start with your Study Visa application – apply for Winter intake -2021 when it is strongly anticipated that border restrictions will be lifted for the particular student segment by then..
As, Some universities are even giving international students the option to defer their courses to the next semester or year.
Incase, Your mind refute the facts put across by me – let me know in the comment section below and I would be glad to clarify any sort of doubts