If you are planning to start with your Visa application process OR
If you're getting overwhelmed /frustrated after getting refusal with your Student Visa for Australia OR
If the visa of your dependent has come to a standstill.
To add to all the above, you might be facing obstacles in your further decision-making process now due to the unexpected "Covid-19 pandemic period" as there could be reasons such as border restrictions troubling you…
You can't escape from hearing about 7 alarming refusal reasons for Australia Student Visa- this blog post has to convey.
Because you would be able to get your application filing for an Australia student visa in the right direction- from the very BEGINNING if you are with me till the end of this blog post…
And this even goes for reapplying after refusal!
But do remember – Constructive and planned approach also plays an important role to get success with your Visa grant!
Also to attach strings for refusal reasons – I would also be covering PROVEN ways as to how you can not be victimized by refusal with reasonable solutions. All these reasons and solutions come after reviewing several refusal letters for Australia student visa.
After analyzing recurrent problems with supporting applications/grounds stated in such refusal letters – I have come to realize that a cohort of applicants has common grounds for refusal HOWEVER, they are still unable to figure out the obvious!
So here, in this extensive post, I'll show you:
What are the most common reasons for refusal?
How is the Department of home affairs, Australia distinguishable with their screening process?
Why had the refusal rate skyrocketed in 2019 for International students from India?
How Fly2victory team with the support of affiliated – Registered Migration agent, Australia – can "connect dots" by getting your Visa application right from the beginning?
Importance of statement of purpose.
and much more..
So, If you want to ACTUALLY find success with Visa Grant and not contrarily, jeopardize your chances for pursuing "World-class" higher studies in Australia, you've come to the RIGHT PLACE.
And yes – you cannot go WRONG with a Registered Migration Agent from Australia whom we have tied up with, to make your Visa filing process easy and uncomplicated with seamless documentation/drafting – ensuring that your application is convincing for the Case officer at FIRST SIGHT!
For now, Let's dive now right in to know the reasons for Australia student visa refusal and solutions to get them RIGHT :
Reason#1. Inconsistences in information being provided or false/bogus documents..
Do you know that there are still several student aspirants who still prefer the "instant gratification" route? And they forget that this is actually the dangerous route to achieve their goals/dreams quickly…
When chasing the instant gratification route – they resort to all sort of false activities like providing bogus documents or misleading statements etc. to satisfy their gratification route and get a Visa grant (at any cost).
But the question is – Will it actually work?
The answer is – obviously NO!
Here's why resorting to false activites won't work:
You won't get past the scrutiny levels…
Even if you can (by chance) get away from the high-level scrutiny measures which are usually backed by forensic testing, by the Department of Home Affairs, Australia – you are certainly under WRONG assumptions.
Scrutiny levels as said above are pretty detailed and closely done! And stats from 2019 are here to prove this…
Some of the past stats from 2019 have shown rejections at a much larger scale- even, putting India to assessment level-3 – high-risk category.

Therefore, with this level of background check, it becomes really tough to evade the scrutiny process!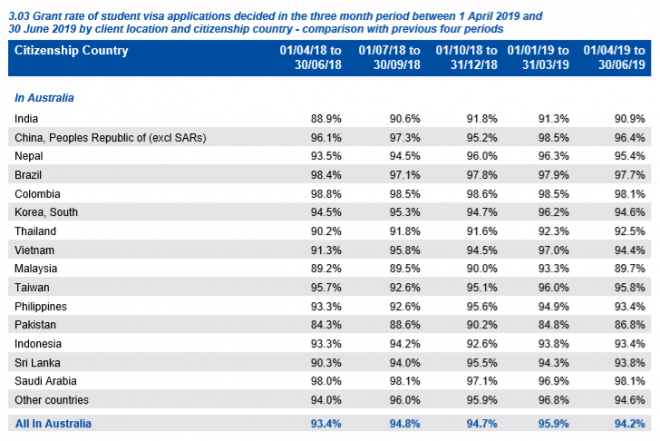 By going through the source site above, you must have got a clear idea as to why refusal rates skyrocketed for International students from India in the past.
And then, here's more to add to the stats :
In Australia last year, 28,000 students were refused a visa –
that's 8% of all student visa applications.
[Source]
So, Certainly – Bogus or invalid documents will not take you much far and instead, on the opposite, will land you into trouble!
Reason#2. Application not backed by appropriate evidence
Again, This is one of the most common reason for rejection.
The student applicant is required to support his/her statements in application with particular documents.
In layman terms – You are required to prove your claims made in the application with evidentiary documents. So, justification is the key here to get your statements be proven right!
As shown in the above picture (screenshot) where one of the common conclusions is stated, the case officer had not been satisfied after weighing all the factors as outlined in Genuine temporary entrant requirement, therefore, the rejection.
And this happens usually due to bad drafting or not adding appropriate documents to prove your statements, as and when required!
Then – To name a few where, The case officer might not be convinced if you are unable to prove:
Ultimately, If there aren't sufficient documents to back up your statements and put weight on them- refusal will come to hurt you!
Reason#3. Inserting all the eggs in one basket
Well, You must have guessed by now as to what I mean here. If not, Read on –
Based upon my experience whilst working with our affiliated Registered migration agent where we had gone through several statement of purpose (SOP) of applicants..
Our initial findings concluded the biggest mistake :
The primary applicant had left NO stone unturned by adding WHOLE nuclear family to file at ONE GO!

This meant that filing an application on a concurrent basis for both – applicant and spouse (including dependant children)

Firstly, See the expenses that will skyrocket at the beginning itself!
And then – there are major problematic strings attached with doing all this :
Instead, I strongly recommend applying for Visa for every close family member on a sequential basis meaning – one by one, and that too, after the primary applicant secures a part-time job, gets settled whilst pursuing higher studies on Student Visa.
Read : How I added a constructive approach to someone asking in context of adding family members in similar application:?
Don't get misguided by this notion which might come by your "lucky" agent – if you could have already applied for your Student Visa application, where the "lucky" agent had given you a lucrative offer of "Fees after Visa" 🙂
This is what such agent might say to convince and get your Case –
Apply altogether and all of you will FIND success in Visa Grant – while I will also charge less if
you are willing to give me concurrent applications to file together
– Your "Beloved" Agent 🙂
And then, Guess what usually happens?
Apart from Visa being refused – A refusal letter will not outline such narrow reasons because the case officer who accesses your file doesn't have that MUCH adequate time neither are they obligated to do so – as they have to see several files…
So, eventually, you could face a tough time with refusal coming for not just one family member but everyone.
The detailed findings related to reasons for refusal in such case can solely be told by competent professionals in the immigration field.
And this is where our tie-up with Registered migration agent matters!
Reason#4. Hiding some crucial information in application
Now – This is a serious offence and can lead to grave consequences including Visa cancellation or ban up to 10 years leaving no ground for appeal too!
Concealment (hiding) of crucial information- including past refusals from another country/s is unacceptable by the Visa authorities. In fact, you are required to incorporate refusal for a similar Visa type if refused in the past – even from other countries.
Even, you are required to show your travel history, too.

This specific clause is even mentioned in the Genuine temporary entrant requirement.
And yes, as outlined earlier – Even if you intentionally or with ulterior motive try to hide important information, the immigration department, Australia can eventually catch hold of your moves even at a later stage.
Don't believe me…read some past events/instances where this has actually happened!
In fact, on the contrary, we always recommend being GENUINE and state a clear/concise explanation, devoid of fluff. The case officer will appreciate your integrity and honesty if you follow this route.
And then, you might be wondering if only your file will get affected by doing all this?

No – It could result in Consequential Cancellation meaning –
If Your Visa Is Cancelled, Your Family Member's Visa May Too Be at Risk too
Reason#5. Inappropriate Character or health grounds
If you are found as per assessment by the Department of Home affairs that you would present a risk to the Australian community or a segment of that community or he or she believes that you may not pass the character test – You may be refused Visa at that very moment.

Although, under such circumstances – The discretionary officer may get back to you to know as to why your visa application should not be refused on such grounds.
But remember – this doesn't happen ALWAYS.
Reason#6. Failure to meet English Language Proficiency levels
Since English is the primary language of instruction and communication at all Australian Educational Institutes – you must demonstrate an adequate level of proficiency in English for which preparing for English proficiency tests and securing required band score is mandatory.
Read related article – 4 Top Reasons To Know Why Online English Tests Are The Future To Immigration Pathways?
Non-native English speakers from countries like India are required to submit IELTS, PTE or TOFEL scorecard as part of the English proficiency test requirement (ELP).

Failure in doing so or even submission of scores below minimum score requirements can result in your Visa application being rejected.
Alternate option with band scores near threshold
If you have given your IELTS or PTE test and struggling to get the desired band score, Contact us and we can explore many viable and seamless opportunities with foundation/pathway programs being offered by renowned colleges/universities in Australia.
Get your eligibility checked here for FREE
Reason#7. No proper Financial documents to corroborate your financial well-being to support for at least 12 months
Well, This is the major prerequisite (requirement) which is even outlined in the Genuine temporary entrant criterion and without showing your clear access to funding sources – your application will go for a toss!
You are required to PORTRAY yourself to be financially sufficient and show that you can manage your financial expenses including travelling, tuition fees for 1 year, accommodation, and misc. expenses for at least up to 12 months.
Now – the financial proofs here for tuition fees don't get relaxation but yes, you usually get leverage to pay tuition fees. Most of the time- you have to pay upfront: 1-semester fees for availing Confirmation of Enrolment (CoE) from a particular college or university.
Contact us today to such options where you can get tuition fee relaxations.
Here's why connecting the funding source is important?
Case officers will examine your previous financial and employment history thoroughly and the source of income for your studies and expenses when you apply for a Student visa – whether it is a bank loan or cash assets or any other fixed assets?
If you have relied on a financial loan, those funds must be deposited into a bank account before you apply. You'll need unrestricted access without any chance for obstructions and prove you can meet the loan repayments over a longer period.
And yes – It can be a bit crafty or tricky to provide evidence of funds to corroborate your financial side – as you are required to support your claims with documents. Documents here should be self-explanatory to prove your statements.
Now, in case you have relied on financial support from a close relative – you need to ensure that there's genuine access to funds. In a nutshell, you have to get it right by proving :
Evidence of the relationship
History of financial support
And yes, you would be at an advantage if the similar person had funded someone earlier also for a similar Visa type!
Apart from documentation part where you are required to need to ensure that :
Funds are legitimate and
Not being added in a lump sum just for the sake of exhibiting them as "Proof of funds"
Yet, you get an advantage here..
Yes – you heard it right. Irrespective of higher scrutiny levels, You get the advantage in comparisons with other nations like Canada –
There is no mandate to purchase an account for an Australian Study Visa – which blocks your amount for another 9-12 months and is mandatory in nature as it is there with Canadian student visa where you have to get GIC done!
Further problems with Visa Refusal or Cancellation…
Here, I will outline some of the bad effects if your student visa gets refused.

And then – always be aware that having a visa application refused, or even cancelled, would require you to inform about this in all future visa applications– even for other countries.

Planning to hide or suppress? Not a great idea! Case officers from other countries will still get to know about your immigration history including refusals, ever since everything is digitalized so all countries have shared data access now.
Consequently, This could also somewhat impact your eligibility for grant of a visa to another country.
How we can get your student visa right from DAY ONE and even help if you have already got refusal..?
First things first (before anything else) –
All the ingredients for GTE requirements will be incorporated in the Statement of purpose – known as the KEY DRIVER to make your application cogent for the Case officer.
The genuine temporary entrant (GTE) requirement is an integrity measure to ensure that the student visa programme is used as intended and not as a way for international students to maintain ongoing residency in Australia.
To put it in a simple perspective –
Is your statement of purpose aligning with what the Case officer is looking for? If not, you are getting it ALL WRONG, making yourself to be prepared for the worst scenario – "refusal."
Infact, you can be left "clueless" after that because refusal letter doesn't spell out each and every point very clearly!
Successful Grant would be subject to discretion of the case officer for which your statement of purpose (SOP) will form the main foundation – will "make" or "break" your chances so it needs to be very well drafted leaving no sign of confusion or raising suspicious eyes for the officer.
Read my answer from Quora in context to get a fair idea
Wait! there's more reason for facing refusal:
Apart from the reasons above – which can result in unforeseen refusal, do you know that you can even be victimized by refusal due to filing for Visa under the wrong category type?
And yes, selection of the wrong category type might not be intentional! It could be that the student visa type might have been reclassified and gone under another category.
Remember: Australia immigration rules or reforms keep constantly changing…
Let me explain this point with an example –
Regional Visa recently got changed to Subclass 491 and the ones to get such insider immigration updates, even before anticipated information reached the general public are Registered MARA agents.
And we already have our strategic tie-up, in place.
Then, there have been regular changes coming from all spheres, affecting almost all Australian visa types in view of adjustments with Covid-19 uncertain times.
This is again where we can help :
Professional expertise being imparted from knowledgeable people in the Immigration industry would matter here – who can actually head your file in the right direction – under the most appropriate Visa type category for the most FAVORABLE outcome.
And then, Timing also affects Visa acceptance rates.
The faster your application goes into the pool… the more the chances for a Visa grant!
Early applicants always get edge over others! – here's why :
That's all due to a fixed quota system which has been decided on a prior basis by the Department of Home Affairs, Australia.
In this – they have already set "definite number" of applications which will be accepted for a certain period.
And why would they not keep it this way? Australia is a popular study destination for Indian international students so they are aware that there is substantial demand!
Due to such popularity, the visa officers get huge pile of Student visa applications.
Thus, applications arriving late have more chances to be rejected when the "quota system" for international students gets exhausted for the specific year/term period as decided.
And yes, we have seen good profiles also being rejected due to this VERY reason.
If you are still avoiding to get the Professional Help…
Read the answer below which would make you feel content – as to why availing our professional services would help you, not just to get your application to go in the right direction.
But also even, help you choose the right course which would align with your long term employment opportunities in Australia.
Conclusion
Preparing and applying for Student Visa can undoubtedly take lot of time and efforts coupled with extensive knowledge you would require to gain from research and then, applying the right course of action with changing immigration rules and regulations/requirements is also needed..
To sum it up – It is simply BEYOND OFFICIAL CHECKLIST process: the checklist which you can get from Immigration and citizenship site..
And, we have seen most of refusals happen for one MAJOR reason –
The applicant is not aware that most of the times – he/she has to go beyond usual requirement checklist to make his/her application convincing for the Case officer – at first sight!
While not hiring competent professionals can help you save sufficient money but if you see the end road towards success (final visa grant) – it will be something else:
You could face a disastrous journey making you run from pillar to post with a refusal letter, resulting in big headaches or frustrations…
…And doing it all ALONE at least for an Australian student visa isn't appropriate- for the major reason: there's a lot of documentation and application work involved!
Not to forget- lot of documentation will invite you to do as much proofreading also…
Yet if you plan to give it a "go", there could be a time when you will go continuously with the "insanity rule".
Because, most of the time – several aspirants are seen using templates and free resources which doesn't resonate so well with the Student Visa Requirements for Australia.
Every application requires a different set of statements and documents to complement the statements.
You are required to tailor all such statements in a personalized manner, after taking all the factors in your profile. You cannot simply copy+paste from anyone else's statement of purpose as that is clearly prohibited by all immigration departments!
Then, as told earlier about Proofreading: this is something you will have to do very closely…
Because even a small mistake where you have OVERLOOKED like for example: not aligning the course with your academic profile or the graduate outcome or even, funding source not connecting well can result in refusal!
Now – Over to you:
What's your #1 key takeaway from the reasons or solutions stated?
Or maybe you could be thinking about some question "in context" to what all has been stated in this blog post
Either way, Would love to hear what you have to say. Let me know in the comment box below.